The TAEDA Tech Project is in full swing, and the willow is growing nicely in the glasshouse and polytunnel. As we approach our first harvest at the University of Surrey site, it is a good time to reflect on one of the aims of the project: to support progress towards achieving Net Zero in 2050. This blog will explore the environmental assessment that is being conducted as part of the project.
Achieving Net Zero emissions by 2050 is a big challenge. Nearly all projections of how it will be achieved require some sort of bioenergy with carbon capture and storage (BECCS) to replace fossil fuel sources. But, as noted in previous blogs, there are bottle necks for producing the biomass needed here in the UK quickly enough. The TAEDA Tech Project is focused on accelerating production of willow planting stock to help create the biomass needed. By accelerating production, we can help upscale biomass production more quickly, offset fossil fuels that bit sooner, and save on greenhouse gas emissions.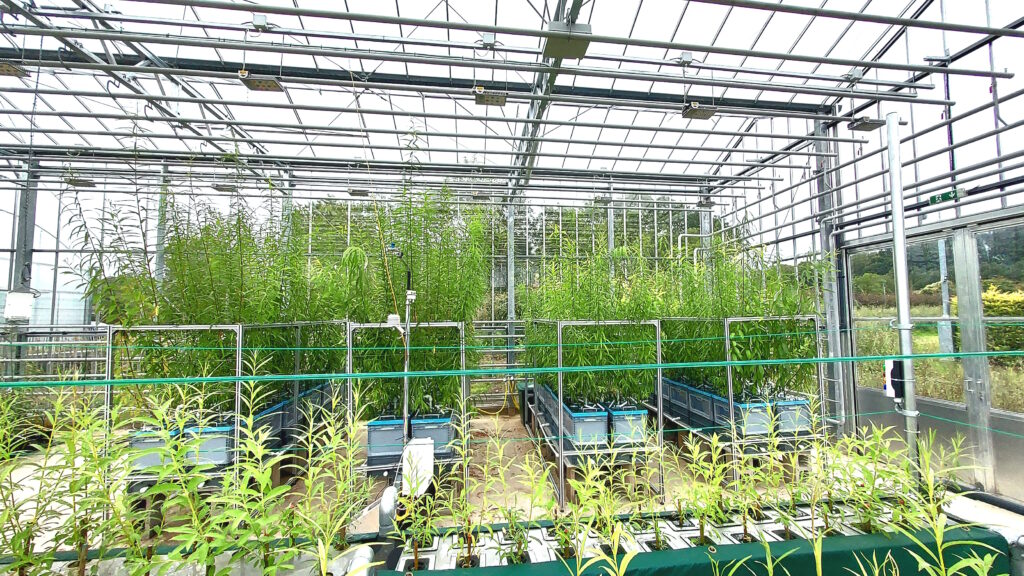 Image: Taeda Tech Project Greenhouse, University of Surrey

The snag is that accelerating production of something can come at an extra cost, be it greater expense, or more environmental impact. That is why Work Package 4 is tasked with conducting an environmental life cycle assessment (LCA) of the aeroponics systems and the willow that comes out of them. An LCA is a standardized method for assessing the environmental impact of something across its entire life cycle. Or, as we call it, from cradle-to-grave. We are exploring the balance of the benefit of having willow biomass available sooner, compared to the cost of producing it more quickly.
Conducting an LCA is an exercise in accounting! We are working with colleagues across the project to build an inventory of all of the resources used to grow the willow. This includes things like energy, fertilisers, water, or materials used in construction. We will also use harvest data, like the number of cuttings or total plant mass. Once we have all of this data, we build models to calculate the environmental impact of producing a willow cutting. This is the first step on the journey of understanding the benefits of producing biomass more quickly. Along the way, we can also use those models to explore some "What if?" questions. What if we made the aeroponics systems using steel instead of aluminium? What if we upscale the research-sized aeroponics systems to industrial scale? Answers to these questions will be a useful guide to developing the TAEDA Tech systems further.
But, the really interesting work happens when we project the willow production into different future scenarios and compare it to traditionally produced willow. Growing willow aeroponically will make larger quantities of biomass available sooner. Therefore, we will be trying to answer questions, like, what if the willow biomass is available in 2030, instead of 2040? What will it be used to offset now, compared to in 2050? What if we replace natural gas more quickly? Or what if it is used as a source of carbon in industry, instead of coal? Not all of these might be useful scenarios, and this is an area where we will talk to stakeholders: find out what is useful to others, and help guide our research.
With the first harvests due at the University of Surrey site in December this is an exciting time for the LCA work. We have been collecting the growing data for the last few weeks, but with the harvest data, we will have the first full picture of how the aeroponics systems are performing! We will then be able to get our teeth into tackling those "What if?" questions!